After a beautiful epitaphios of the Theotokos was created for St. John the Merciful by Fr. Andrey Syrkin, parishioners at St. Johns brought several icon prints of the Theotokos and shortly thereafter a shrine was assembled in honor our most holy Theotokos shortly before the initial outbreak of Covid. A tradition of offering the Akathist Hymn to Our Lady of All Protection began via Webex videoconferencing each Monday at noon, primarily by the women of St. Johns. This tradition has continued and has become part of our parish life. To gain access to the Akathist meeting via Webex, you will need to either join the St. John the Merciful bulletin email list or to contact Fr. David directly. 
To download the PDF of the Akathist Hymn to Our Lady of Protection, click here.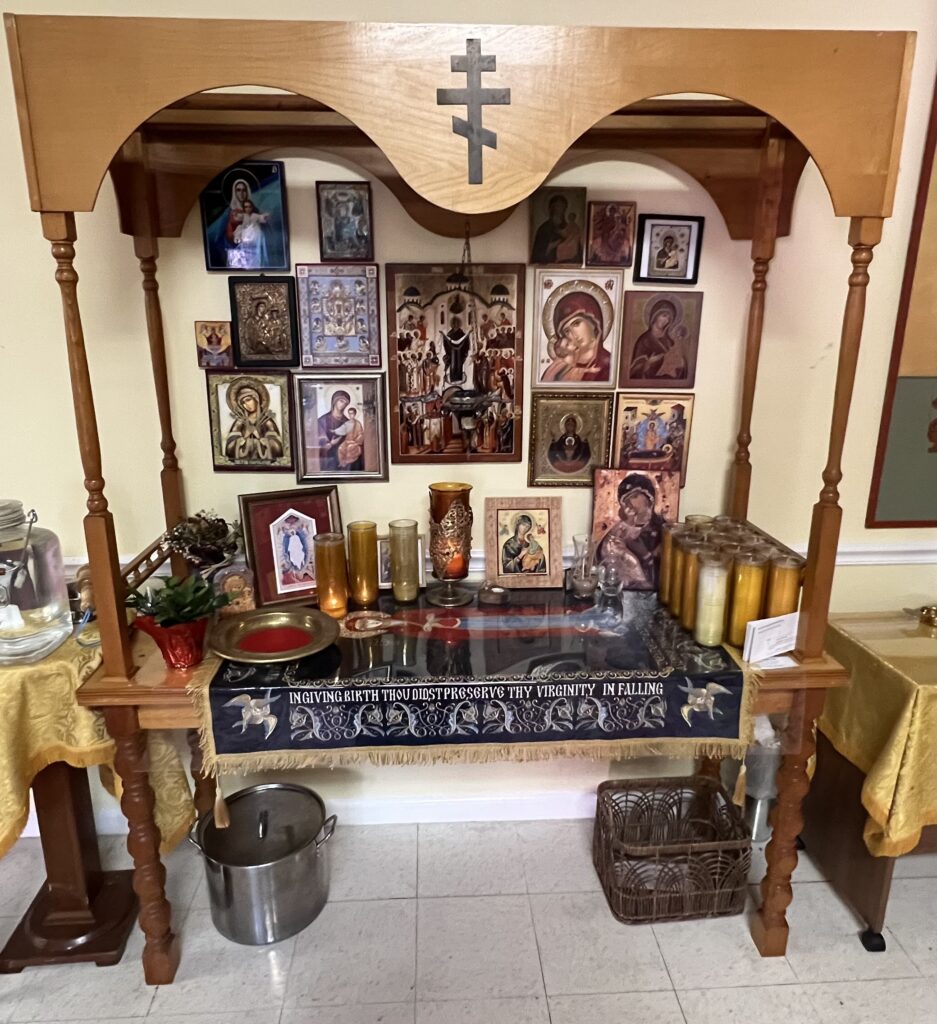 What is an Akathist?
An Akathist is a relatively short (around 30 minutes) service of hymns dedicated to a particular saint, holy day, or to members of the Holy Trinity. The word "A-kathistos" is Greek for "not sitting" which means this a service where worshippers are expected to stand. The most well known akathist is the 6th century akathistos to the Theotokos composed by St. Romanos the Melodist. You can read more at OrthodoxWiki.
What is the Lady of All Protection Akathist?
This akathist was composed after an event in 10th century Constantinople when the city was threatened with barbarian invasion and a group of people saw the Theotokos and other saints and angels during a Vigil service at the church in Blachernae (a district in Constantinople near the city gates) where her robe, veil, and belt were kept as relics. In this appearance, the Theotokos knelt down in prayer for some time, shed tears, and took off her veil and spread it over the people as a sign of protection. After this appearance, the danger of invasion was averted and the city was shared from bloodshed and suffering (OrthodoxWiki). Soon thereafter, this appearance was celebrated as a feast day of the Protecting Veil of the Mother of God. Since the Slavonic word Pokrov (Покров) can be translated as cloak/shroud but also protection/intercession, you will see various English translations of this feast, such as Veil of Our Lady, the Protecting Veil of the Theotokos, the Protection of the Theotokos, or the Intercession of the Theotokos.
Where can I find other Akathists?